Carnilove Semi-Moist Snack Sardine enriched with Parsley
Complementary cat food
Delicious soft snack suitable for all cats. With parsley for healthy digestion
Package: 50g
Composition: 40% dried sardines, yellow peas, liquid vegetable starch, sardine gravy, poultry liver gravy, collagen, 1% parsley, salmon oil
Analytical Constituents: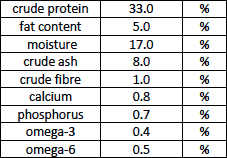 With natural preservatives: citric acid, DL-malic acid.
Metabolizable energy: 3 360 kcal/kg
Feeding Guide:

Use semi-moist snacks as a reward to help build a strong relationship with your cat. Serve from the hand and enjoy some special time together. Don't forget to have a bowl of fresh water available for your feline companion.